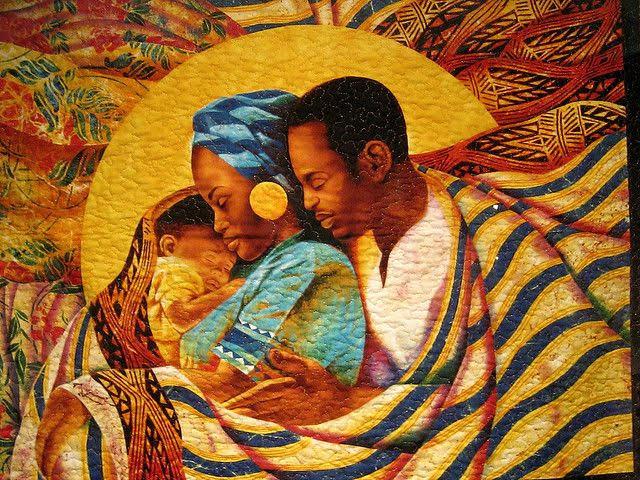 Dear Friends of Avila, and all our wider family,
It is Christmas. A baby is born to us. A Son is given to us. His name is Wonder Counsellor, Prince of Peace. He brings healing in his wings.
Every man and woman within humanity are echoing this intimacy of God among us, touching them in the birth of their child. Look at the intimacy with which Joseph shelters Mary with her child. The white garment of his purity deepening the sheltering fatherly love he envelops them with. Mary is lost in mothering her child in the unique motherly love of every woman and the baby in the family Covenant which is held in the heavenly Father's gaze from above, with the Holy Spirit breathing upon the face of the earth. How good it is that Pope Francis has made this year 'the Year of St. Joseph.
There is a great deal of fear and insecurity around us since the outbreak of the pandemic in March. A lot of darkness and gloom. A 'Holy Light in on earth's horizon.' This light causes us to 'rise, shine for His Light has come, Rise, shine and let your joy be complete.' Come to Bethlehem this Christmas! You can come in your own family to this intimacy and light by your love, your forgiveness and your trust in the goodness there.
If you are hurting, if you are worried about the new baby, know, that the light has come and 'all shall be well.
The future is full of hope. 2021 brings new challenges but nothing we can't overcome together with Christ as our compass, our anchor and companion on the way.
We are learning a new horizon of ministry on line through a Zoom ministry. It is wonderful and we must help each other to overcome the estrangement we sometimes have with technology. Watch our Avila website for new programmes we will offer in co-operation with our Priory at Boars Hill, Oxford where we are developing a Province on-line ministry to meet the new challenges we face over the next few years. Check out CACSOXFORD on your computer and see the new horizon on teachings and supports that you can access from your own kitchen.
I want to thank you all for your faithful mass attendance at our Avila chapel. For coming into the silent prayer space and taking time with Our Saviour. Thank you each and all for your support for the community and ministry. Thank you for your cards, good wishes, gifts, offerings and encouragement. May our presence here make Avila a place of welcome and peace for your always.
Wishing you all a prayerful and peaceful Christmas and a new year filled with grace and healing.
Fr. Liam and the Community at Avila, Dublin.
---